Progreso Apoyo Program 2022 Year-End Report
As we get ready to welcome in the New Year, we want to provide everyone with a brief summary of the Progreso Apoyo Program accomplishments for 2022. These activities would not have been possible without the time, energy, and resources provided by our sponsors, volunteers, and donors, as well as members of the community who support our annual Home Tour. Click the picture or this link https://youtu.be/4F9CCLM-aVo to view our short video and see some of the highlights from 2022!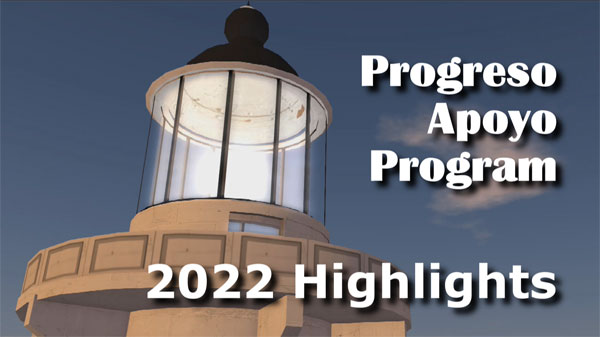 Here is more detail about how our program supported education in the greater Progreso area:
We enrolled 17 new students into our program and added 13 new sponsors. The program currently supports 74 students who live in Progreso, Chicxulub and Flamboyanes.
For the first time, since we started our program in 2019, most of our students are attending high school! A total of 55 students are attending one of two high schools here in Progreso.
We continued to help 21 of our students improve their English through our Virtual English Program. Under the leadership of Debbie Ritchie, the program matches students here in Progreso with on-line English coaches located in the US and Canada. We have 15 volunteers who meet on-line weekly with their students.
In the fall, we started a new program called COBAY Conversation Classes. Coordinated by volunteer Laurie Davis, this program offers students at COBAY High School practice speaking English in small groups led by English-speaking volunteers. The pilot program was very successful and we are looking to expand this program in 2023.
The 2022 4th Annual Progreso Home Tour was our most successful ever! We raised more than $100,000 MX to support the efforts of our program and continue our investment in the middle schools of Progreso. We were able to purchase a new projector for the computer lab Carlos Marx Middle School and are currently upgrading the computer lab at Benito Juarez Middle School.
We provided support to the City of Progreso Library through the donations of English-language books. We use the library to offer tutoring services for our students who need extra help with their studies.
We continued our partnership with the Merida English Rotary Club by participating in their first annual Art Auction. Special thanks to local artists Carl Boudreaux and Rosy Peraza Rios for their donations to the art auction that benefited our program.
We made a donation to students at COBAY High School to help them bring Christmas to two small Maya villages in the interior of the Yucatan. The COBAY students are preparing for careers as teachers, and our donation ensured that their final class project was a huge success!
We are looking forward to an exciting 2023. Our 5th Annual Progreso Home Tour promises to be bigger and better than ever! Mark your calendars for Saturday, March 4 and watch for information on ticket sales starting in January 2023. You won't want to miss this fantastic event!
For those of you who are sponsors, look for an email from our Vice-President Dale Hunter-Aubichon, who will provide you with the information that you need in order to submit your annual sponsorship fees for 2023. If you're not a sponsor, please consider joining our growing community of individuals supporting the education of young people here in our Progreso-area communities. You can learn more about becoming a sponsor by reviewing our 2023 New Sponsor Information sheet
http://progresoapoyoprogram.org/wp-content/uploads/2022/12/2023-New-Sponsor-Letter.pdf
Thanks to everyone who has been a part of our activities for the past year, and we look forward to connecting with you again in 2023!
Happy New Year from the Progreso Apoyo Program!
Speranza Avram, President
Dale Hunter-Aubichon, Vice-President
Mary Elizabeth Walberg, Treasurer
Follow us on Facebook
Progreso Apoyo Program