THIS PROJECT HAS BEEN UPDATED–SEE OUR JULY 21 UPDATE NEWSLETTER
There are about 1,700 students in three three public middle schools we work with, and three computer labs with no computers in them! Imagine -– in this day and age of ever-increasing connectivity, our middle school students do not have access to the basic tools of technology – computers!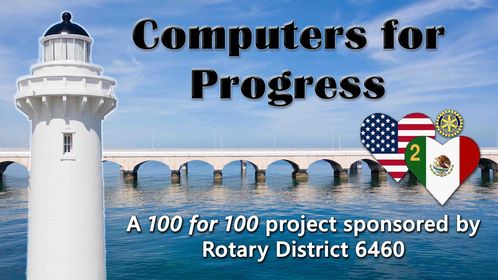 To address this need, the Progreso Apoyo Program is pleased to announce a partnership with Rotary Clubs in Mexico and the USA to purchase computers for each of the three public middle schools in Progreso. The "Computers for Progress" project has been selected as part of the "100 for 100" funding initiative that celebrates 100 years of Rotary Club's involvement in Mexico by sponsoring 100 projects throughout the country. One of the local newspapers did a nice write-up of our site visits to one of the schools — click here to read this article.
This project is co-sponsored by the Merida English Rotary Club and the Club Rotario Ejecutivo do Progreso and endorsed by Rotary Club District 4195 (which covers southeast Mexico). 200 project proposals were submitted, and we were selected by Rotary Club District 6460 in western Illinois for support.
Rotary Clubs around the USA and Mexico are raising money to help us purchase computers for our schools. We received a very generous and timely donation of professional video services from Jeremy and Jillian Hinkston, who produced this informative video for us:
If you would like to donate to this project directly thru our PayPal page, just click this button: